Shoe Republik's parent company celebrates 40 years in business this month.
Tim's Shoe Centre thrives after 40 years
Since its opening, Tim's Shoe Centre in Newcastle West has weathered every storm of the last 40 years. And the husband and wife team behind the business, Tim and Frances Kelly, still have plenty of ideas up their sleeves when it comes to shoes. Even though times have changed since the first day instore, the Kelly's have retained their loyal customer base around the county.
"Business is good, and although we've been through turbulent times in retail, we've gotten through that. Even last year showed great improvement, and already we are only into the first three months of 2017, and things are looking good," said Tim, who opened the Maiden Street store on April 1, 1977 - shortly before his 21st birthday.
Having started out at age 13 working in a draper's shop which also sold shoes, Tim moved on as a dedicated shoe seller at various stores in Limerick city during his teenage years. "I always had this thing in my head that I wanted to work for myself. I had a good look around, and I found that there was no one really fitting kids, and providing that service for children. That was a gap that needed to be filled in a big town like Newcastle West, and that brought in extra customers. So that was an area which was very strong for our business for a good number of years," he said. Kelly's still fit kids to this day, with the most popular brands being Geox, Skechers and Pablosky.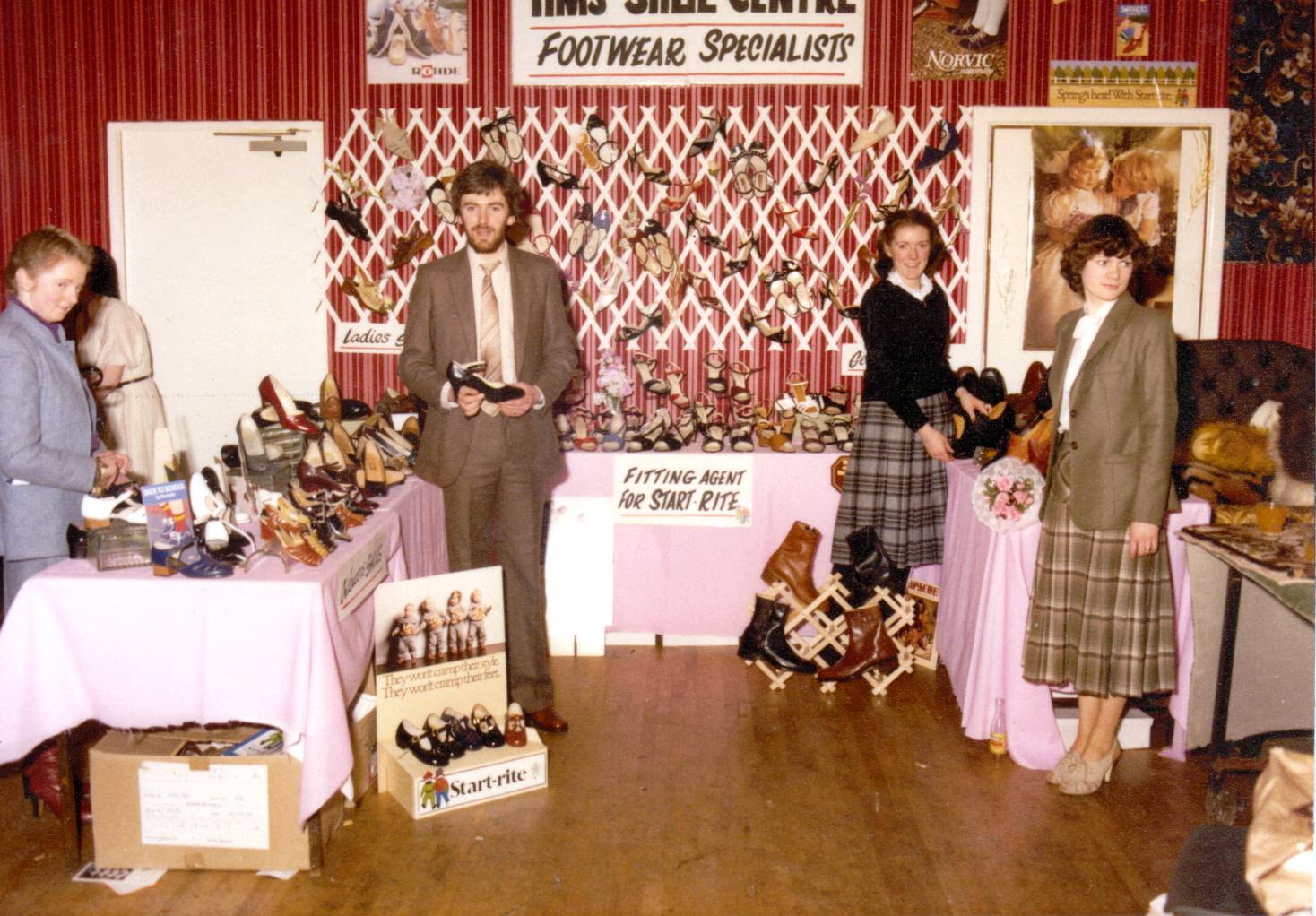 Decades of experience: Tim's Shoe Centre's stand at the wedding fair in March 1980

Tim's Shoe Centre was the second dedicated shoe shop in Newcastle West when it opened, and is now longest-running shoe shop in the town. The family business also had a base in the Crescent Shopping Centre for almost 20 years, but left their unit at the centre last year. The biggest thing they miss about the Crescent store is their loyal customers and the "wonderful" staff they had there, according to Frances. The spouses are currently planning a replacement in the city for their Crescent store. "We are hoping that that's going to happen before the year is out. We had built up a massive customer base in the Crescent, and to this day, a lot of the customers are so loyal that they are actually travelling to Newcastle West to deal with us," said Tim.
The Kelly's have a strong presence online, with a popular Facebook page, run by Tim and Frances' son, as well as the online store. "It's a family run business, and the lads always help out when they can. We have three boys, Michael, Alan and Timothy," said Frances. "We are very lucky in the sense that we have very loyal customers, that keep coming back, which really is the backbone of any business. We see regular faces very often, and it's a good sign for us," added Frances, who also had a background in selling shoes before she partnered up with her husband. "I suppose that they are very happy. We have built up a very good customer rapport," she added.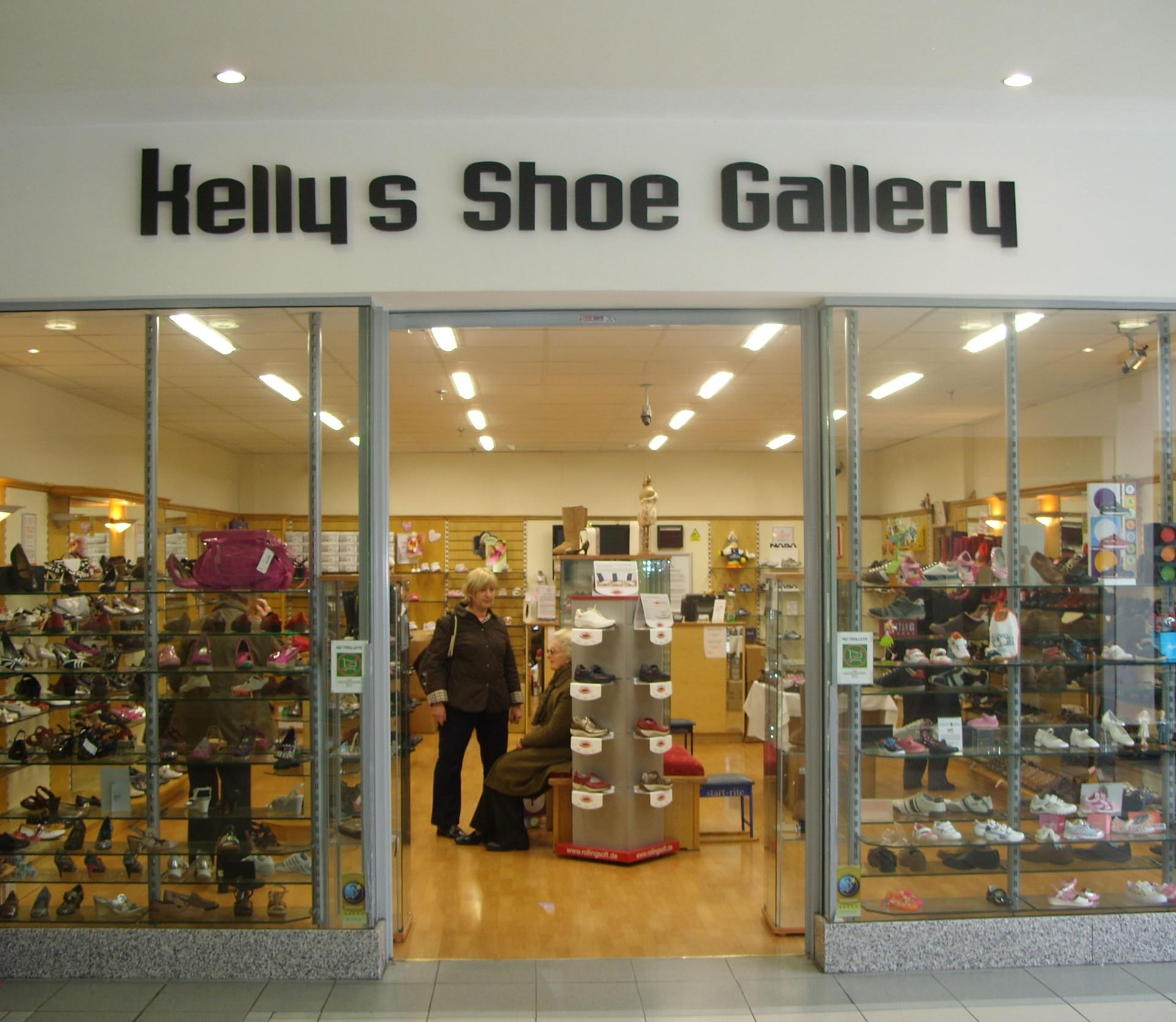 History: Kelly's previous store in the Crescent Shopping Centre, Limerick

Although very popular for children's fittings and shoes, the store's most loyal fanbase comes in for their comfort footwear. "We specialise in the wide-fitting and comfort shoe. When the recession really hit, the customers that were very loyal and had disposable income were those people that were near retirement. They were coming in solely for comfort, because we had that business built up over years," said Tim. The store stocks quality shoes made with the finest leather and materials. Some of their most popular brands include Skechers, German brands Rieker, Ara and Gabor and Spanish brand Pitillos.
"I've met children, and now those children are grown up and they are bringing their own children. Customers have travelled out to us from Limerick. It's a good sign of the services we give and I suppose a lot of people love the patience we have for them. We make customers feel very comfortable," said Frances.
Ms Kelly revealed that they are rebranding their Newcastle West store as Shoe Republik - which is currently the name of their online store - once the 40th celebrations are over. An anniversary sale event will be taking place in-store on Saturday April 8th. All customers are welcome for drinks, finger food, giveaways and special anniversary offers, including big discounts and buy-one-get-one-half-price on selected current season stock. The store is also running discounts throughout next week, in addition to free giveaways on their Facebook page throughout the month of April.
This is all ahead of the store's participation in the Gok Wan Fashion Brunch Club on April 15th in Desmond Castle, Newcastle West, where the King of Fashion himself will be sharing style tips to an enthusiastic crowd of 300.
This article was featured in the Limerick Leader on Thursday April 6th 2017. Article written by Maria Flannery.